Our primary focus is helping businesses build innovative marketing and communication programs. Based on a strong background of marketing and communications,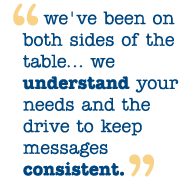 B2 Consulting LLC maximizes identity with integrated marketing activities.
B2 Consulting LLC has specific expertise in high technology, the built environment, professional services and non-profit marketing and communication. We've worked extensively with marketing, sales, finance and communications executives on budgeting, designing and executing extensive marketing plans.